The Children's Tumor Foundation's NF Endurance Team is a vibrant and fulfilling way to take a stand against neurofibromatosis. Participants can chose from a variety of premier events, community events, or 'choose your own event' that include anything from an Ironman triathlon, a marathon, a 5k, a bike race, a swim event, or any other endurance event.
The Arkansas Chapter forms an NF Endurance team that participates in the Little Rock Marathon annually. Our team is the largest charity team during the marathon weekend. The LR Marathon provides a great atmosphere for our team and helps us celebrate at the finish line with a Team Celebration area. Registration for the 2019 LR Marathon is now open!  Register here.
If you are interested in making more of your miles by being connected to an NF Hero, let us introduce you to a local NF Hero. Knowing you are making a difference in the life of a child can certainly motivate you to conquer any distance.  
Below, meet several of our LR Marathon NF Heroes and let them inspire you to get to the finish line. Our Heroes would like to congratulate you on your training and look forward to meeting you at the finish line!
Hannah  was diagnosed with Neurofibromatosis (NF1) at age 2.  When Hannah's mom hear the the doctor say she has a genetic disorder called Neurofibromatosis, Jennifer recalled: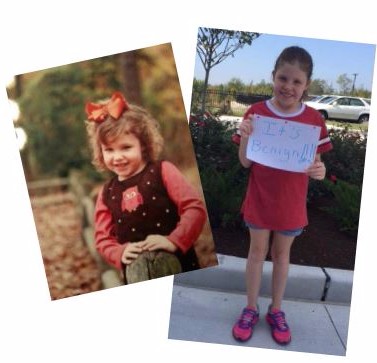 "I entered a world of confusion, questions, and fear.  I had never heard of this disorder before. Living with NF is difficult in the sense of never knowing what the next MRI will reveal.  It is important that a cure be found.  I am now involved with the NF Endurance team, which helps raise money for research.  I have never been a runner and I am now entering the 1/2 marathon in March.  I see it as, if my sweet Hannah has to endure living her life with NF, I can at the very least endure 13.1 miles, in effort for a cure to be found."
Jennifer Elliott – aka, Hannah's Mom         
Mark & Aaron
Mark and Aaron are brothers, sharing the journey of living with NF. However, NF has manifest itself very differently for each brother. Mark became a teenager this year and had this to say about NF: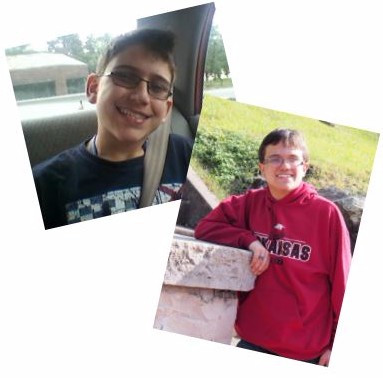 "My favorite thing to do for the NF Endurance team is cheering.  It's fun and exciting to see them run.  They are running to find a cure for NF and for me.  Sometimes you have to have MRI's and you get bumps on your face and body that are little tumors.  Sometimes they hurt.  You get spots called Cafe' Au Lait marks, but they don't hurt you just get more of them.  In second grade I had brain surgery because I had a tumor on the back of my brain.  I kept getting headaches.  It was real small at first then it grew really big really fast.  My doctor at Arkansas Children's Hospital said it was serious and we couldn't wait.  It was by my spine and could kill me.  They shaved part of my head and cut me from my crown to my neck.  It hurt!  I had to stay in the hospital for a week.  I don't have a brain tumor now so I'm glad.  I hate NF and wish it would go away or have a cure.  There isn't a cure so that is why it's important to run for NF.  All of us kids need a cure."
 Thank You, Mark Sullivan 
Miles was diagnosed with NF-1 at 10 months.  Read below about his story: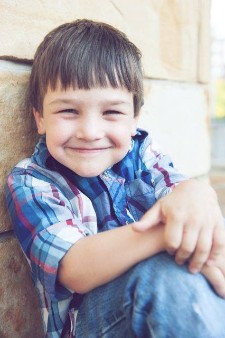 Miles is a spunky, hilarious 8 year old with a love for cars, keys and dogs. Although he only has one labradoodle named Murphy, he has more toy cars and "hand me down" car keys than we can keep up with! He was diagnosed with NF-1 at 10 months of age and shortly thereafter, we discovered an optic nerve glioma in his left eye. The week of his second birthday, we began chemotherapy to try and decrease the tumor to protect not just his vision but also his pituitary gland and all it regulates. It was a rough road for 2 years as we endured treatment, but we are very grateful that he has now been chemo free for 4 years. Through regular MRIs and vision tests, we have seen the tumor remain stable while he continues to grow and thrive. Miles still struggles with his motor skills due to decreased muscle tone and hand eye coordination/visual perspective. This effects his everyday life, especially in school with the demands for reading and writing. He also has headaches frequently and complains often of pain in his back, He has quite a few neurofibromas along his lower back, which are very sensitive. But a recent exam indicated possible scoliosis and we are due to see a specialist at the end of the month to determine what we can do to help him. As ever changing as NF can be, I know one thing is growing stronger- Miles and his fighter attitude to continue trying.
Myleigh was diagnosed with NF when she was 16 months old.  Read below about her family's journey in her mom's words: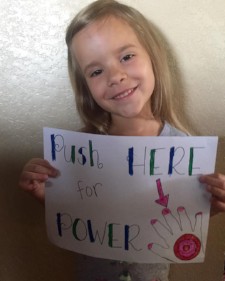 Our family's NF journey began when our daughter, Myleigh, was diagnosed at 16 months. Her bravery and strength through biannual MRI's and frequent migraines amazes me. There is so much spunk and sweetness packed into her petite six-year-old frame. This girl seriously charms most everyone who crosses her path with her big brown eyes and magnetic personality.
Myleigh loves exploring outdoors on the farm where we live and playing dress up; she could easily be found outside on a sunny Arkansas day wearing her Snow White costume and glittery lipgloss while digging up worms and tending to a stoller full of baby dolls nearby.  At school, Myles is a social butterfly and enjoys writing and reading (and recess.) When asked about the future, she eagerly shares her dream of becoming a "baby doctor... and a pizza maker."
As her mom, the uncertainty that comes along with NF is the most difficult part of this journey. I'm so glad to have an outlet such as NFE with Children's Tumor Foundation where we can focus our efforts on actually doing something instead of simply waiting. Thank you for fighting for change and hope for the future with us!